Titanic: A Modern Masterpiece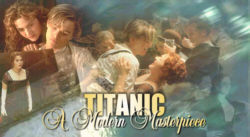 Welcome! Please, feel free to
Enter Titanic AMM!
And have a GREAT time!


Designed for a resolution of 800*600 pixels and MSI Explorer/Netscape Navigator 3.0+!


THE IMAGES AND ORIGINAL TEXT CONTENT OF THIS SITE MAY NOT BE COPIED OR REDISTRIBUTED IN ANY WAY.
Sincere apologies to Paramount Pictures and Twentieth Century Fox for using their copyrighted material but I couldn't see any other way to make this Internet tribute to what I consider the greatest film of all time. /Andreas Nilsson
[ C o p y r i g h t © A n d r e a s N i l s s o n ]
Produced by A.N. Internet Media, 1998.
Created February 7th, 1998.